Timbercare Transtain Transparent Interior Stain
Instant dry interior wood stain.
Timbercare Transtain is high quality transparent wood stain for toning aesthetic beauty of wood grains. The product is designed for interior use. It can be top coated by most of the Timbercare clear wood finishes. The product is also available in Tonga, Solomon Islands and Vanuata.
Instant dry
Multi-finish compatibility
Enhances wood grains
Surface preparation:
Ensure that the timber to be stained is clean and dry. Carry out sanding along the grain marks using fine sandpaper.
Dust off entire area to be painted. Fill surface imperfections like nail holes, cracks, etc. by suitable filler.
Sand the surface smooth using sandpaper, and dust off.

Application Procedure:
Stir the contents thoroughly before and during use. Apply Transtain evenly using a soft cloth pad. Wipe-off excess stain immediately. Allow it to dry for 30 minutes. Wipe the stained area using cloth moistened with small quantity of mineral turps. Apply appropriate sealer coat.
Transtain can also be applied by spray. Ensure application of a thin coat by passing the spray gun briskly over the area to be painted. Allow the stained surface to dry for 30 minutes.
The choice of sealer coat depends on the selection of clear topcoat. For Timbercare Instant Drying Lacquer, use Instant Drying Sanding Sealer. In case of Timbercare Polyurethane Clear finishes, use Touchwood Brushable Sanding sealer.
Tools you will need
Spray
Available Packs
1 Ltr
4 Ltr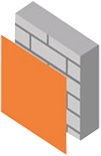 1 Coat
10-12 Sq M / Ltr / Coat**
Coverage
On well-prepared surfaces, as per the painting system recommended. Please refer to the Product Data Sheet for surface preparation and method of application.
** Actual coverage may vary from the quoted coverage due to factors such as method and condition of application, surface roughness, and porosity.
Get Inspiration

Make Your Plan

Let us design a project plan to suit your needs.

Colour Confident
Note:-
The shades displayed on this website are indicative only and may vary from the actual colours due to variance in monitor calibration and resolution as well as screen settings.