Timbercare Wood Enhance Exterior Low Solids
Premium exterior timber stain that provides durable natural finish.
Timbercare Wood Enhance Exterior Low Solids (ELS) is a premium quality translucent timber stain designed for exterior application. It comes in a single pack, and is easy to use. The product is mainly recommended for use as a primer before applying Timbercare Wood Enhance-EHS. The system, comprising of one coat of Wood Enhance-ELS and two coats of Wood Enhance-EHS, helps to provide excellent durability to the substrate and the system against potential damage from weathering.
Flexibility
Excellent penetration
UV resistance
Surface preparation:
Remove wax, dirt, dust, or loose flaking paint, if any, using sandpaper. Always carry out sanding of wooden surfaces along the grain marks.
Dust off entire area to be painted. Fill surface imperfections like nail-holes, cracks, etc. with exterior grade wood filler. Sand the surface smooth using sandpaper, and dust off.
On fresh timber, it is recommended to first use one coat of Timbercare Wood Enhance-ELS as a primer after necessary surface preparation.

Application Procedure:
Stir the contents thoroughly before and during use.
The product is designed for undiluted application. Apply uniform coat by brushing over properly prepared timber.
It is recommended to first use Wood Enhance-ELS to prime the surface. Apply two or three uniform coats by brush. Do not sand between the coats.
Allow 16 hours drying and follow with two full coats of Wood Enhance –EHS.
Tools you will need
Brush
Spray
Roller
Available Packs
1 Ltr
4 Ltr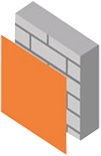 1 Coat
10-12 Sq M / Ltr / Coat**
Coverage
On well-prepared surfaces, as per the painting system recommended. Please refer to the Product Data Sheet for surface preparation and method of application.
** Actual coverage may vary from the quoted coverage due to factors such as method and condition of application, surface roughness, and porosity.
Washability
Excellent
High
Medium
Low
Get Inspiration

Make Your Plan

Let us design a project plan to suit your needs.

Colour Confident
Note:-
The shades displayed on this website are indicative only and may vary from the actual colours due to variance in monitor calibration and resolution as well as screen settings.
Thank you for subscribing!