Apco Wood Putty
Premium wood putty for filling surface imperfections.
Apco Wood Putty is a flexible oil based filler for wooden surfaces for filling of dents and other surface imperfections. Deep dents should not be filled at a stretch but in thin layers. The product is also available in Tonga, Solomon Islands and Vanuata.
Excellent adhesion
Easy sanding
Surface preparation:
Ensure that surface is free form loose dust and moisture.
Surface should be primed with suitable primer /sealer for better bonding.

Application Procedure:
Apply Apco Wood Putty with putty knife wherever necessary on primed wood surfaces such as dent, cracks, undulation, etc.
Tools you will need
Putty Knife
Available Packs
1 kg
4 kg
20 kg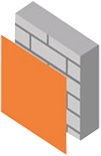 1 Coat
1-1.5 Sq M / Ltr / Coat**
Coverage
On well-prepared surfaces, as per the painting system recommended. Please refer to the Product Data Sheet for surface preparation and method of application.
** Actual coverage may vary from the quoted coverage due to factors such as method and condition of application, surface roughness, and porosity.
Get Inspiration

Make Your Plan

Let us design a project plan to suit your needs.

Colour Confident
Note:-
The shades displayed on this website are indicative only and may vary from the actual colours due to variance in monitor calibration and resolution as well as screen settings.