Enviroskin 100% Acrylic Water Proofing Membrane - Semi Gloss
Premium undercoat for interior and exterior use.
Sureprep is a multipurpose premium quality acrylic sealer undercoat which gives excellent opacity and inter-coat adhesion.
High build film
Excellent stretchability
Excellent water repellence
Surface preparation:
New masonry surfaces must be allowed to cure completely. It is recommended to allow 28 days as the curing time for new masonry surfaces.
Surface should be free from any loose paint, dust or grease.
Growths of fungus, algae or moss should be removed by wire brushing and water.
For interior surfaces or substrates that are subjected to continuous seepage or dampness, kindly use Apco Coatings SmartCare Damp Block.

Application Procedure:
Stir the contents thoroughly before and during use.
Apply one or two uniform coats with light sanding in between using 220- grit sandpaper.
Dust off by wiping with a clean cloth.
Tools you will need
Brush
Spray
Roller
Available Packs
1 Ltr
4 Ltr
10 Ltr
20 Ltr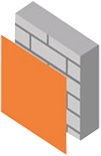 1 Coat
12-14 Sq M / Ltr / Coat**
Coverage
On well-prepared surfaces, as per the painting system recommended. Please refer to the Product Data Sheet for surface preparation and method of application.
** Actual coverage may vary from the quoted coverage due to factors such as method and condition of application, surface roughness, and porosity.
Washability
Best-in-class
High
Medium
Low
Get Inspiration

Make Your Plan

Let us design a project plan to suit your needs.

Colour Confident
Note:-
The shades displayed on this website are indicative only and may vary from the actual colours due to variance in monitor calibration and resolution as well as screen settings.