APCO SmartCare Damp Block
Protect your home from waterproofing problems.
Apco SmartCare Damp Block is a polymer modified, flexible cementitious waterproof coating. It is a single pack high performance cementitious product formulated with elastic waterproofing polymers, nano technology based additives and crystalline technology.
Adhesion
Easy to apply
Flexibility
Surface preparation:
Cleaning: Surface should be free from loose paint, dust or grease. Remove old paint, putty or existing POP using chisel and wire brush. Ensure you reach the cement plaster before product application.
Repairing: Re-plaster if existing plaster is in very poor condition. Repair the concerned area to stop the source of dampness.
Filling For Cracks: For filling cracks up 3mm use Asian Paints Crack Seal.

Application Procedure:
Step 1: Self priming with Smart Care Damp Block brush.
Step 2: First coat with Smart Care Damp Block.
Step 3: Second coat with Smart Care Damp Block.
Step 4: Levelling using APCO Wall Putty.
Tools you will need
Trowel
Putty Knife
Available Packs
5 kg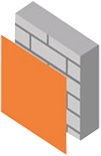 1 Coat
0.6-0.8 Sq M / Ltr / Coat**
Coverage
On well-prepared surfaces, as per the painting system recommended. Please refer to the Product Data Sheet for surface preparation and method of application.
** Actual coverage may vary from the quoted coverage due to factors such as method and condition of application, surface roughness, and porosity.
we also recommend
Get Inspiration

Make Your Plan

Let us design a project plan to suit your needs.

Colour Confident
Note:-
The shades displayed on this website are indicative only and may vary from the actual colours due to variance in monitor calibration and resolution as well as screen settings.