Timbercare Deck and Furniture Oil - Semi Gloss
Interior and exterior decking oil, suitable for a variety of wood.
Timbercare Deck and Furniture Oil is a tung oil enriched with protective composition, which penetrates for effective and easy protection of timber decks, and interior and exterior furniture. The product is also available in Tonga, Solomon Islands and Vanuata.
Anti-fungal & mould resistant
Anti-peeling, anti-blistering & crack resistant
Multi-wood application
Surface preparation:
Allow the timber to weather sufficiently.
Treat the surface with antifungal solution, and then clean with fresh water.
Allow the timber to dry completely. The surface shall be free from all contaminants like oil, grease, wax, and chemicals.

Application Procedure:
Stir the contents thoroughly before use. No primer is required while applying this product on timber.
Apply one coat of decking oil and allow it to get soaked in to the timber. Wipe out excess oil after 2-4 hours by using soft cotton cloth.
Apply second coat after 12 hours of drying. Wipe out excess oil after 2-4 hours. Generally two coats are sufficient. Do not over apply.
Tools you will need
Brush
Roller
Available Packs
1 Ltr
4 Ltr
10 Ltr
20 Ltr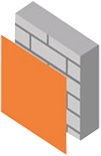 1 Coat
8-10 Sq M / Ltr / Coat**
Coverage
On well-prepared surfaces, as per the painting system recommended. Please refer to the Product Data Sheet for surface preparation and method of application.
** Actual coverage may vary from the quoted coverage due to factors such as method and condition of application, surface roughness, and porosity.
Get Inspiration

Make Your Plan

Let us design a project plan to suit your needs.

Colour Confident
Note:-
The shades displayed on this website are indicative only and may vary from the actual colours due to variance in monitor calibration and resolution as well as screen settings.