Timbercare Cuprinate Wood Preserver
Premium wood preserver for interiors and exteriors.
Timbercare Cuprinate Wood Preserver is a unique composition of copper salt and petroleum hydrocarbon specially formulated to protect the timber from rot and termite attack.
Easy to apply
Versatile application

Surface preparation:
Remove all the dust, dirt, grease and oil from the surface.
If any mould or fungus is present on the surface, treat it with commercially available bleaching agent and then wash it with water thoroughly. Let the surface dry completely.

Application Procedure:
Stir the contents thoroughly before use.
Apply one coat of Cuprinate and let the timber soak it in.
Apply second coat by allowing the first coat to dry for 2-4 hours. Generally two or three coats are sufficient.
Tools you will need
Brush
Spray
Roller
Available Packs
1 Ltr
4 Ltr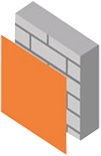 1 Coat
5-6 Sq M / Ltr / Coat**
Coverage
On well-prepared surfaces, as per the painting system recommended. Please refer to the Product Data Sheet for surface preparation and method of application.
** Actual coverage may vary from the quoted coverage due to factors such as method and condition of application, surface roughness, and porosity.
Get Inspiration

Make Your Plan

Let us design a project plan to suit your needs.

Colour Confident
Note:-
The shades displayed on this website are indicative only and may vary from the actual colours due to variance in monitor calibration and resolution as well as screen settings.