Oilprep Pigmented Sealer
Premium multipurpose sealer with alkali resistant properties.
A premium quality oil-based pigmented sealer for interior and exterior use. The product is also available in Tonga, Solomon Islands and Vanuata.
Alkali resistance
Excellent sealing properties
Versatile application
Surface preparation:
Remove all dirt, dust, grease and other contaminants. If some mould or fungus is present on the surface, wash it with a commercially available bleaching agent and then treat with anti-fungal solution.
Fill cracks and imperfections with a suitable filler and spot prime.
All previously painted surfaces may be sanded with 180-mesh sandpaper to remove all flaking paint and to reduce previous film to a flat finish.

Application Procedure:
Stir the contents thoroughly before and during use. Apply single, uniform coat. Sand lightly using 220-mesh sandpaper to a smooth finish, even finish. Dust off. For best results follow with an undercoat and two coats of finish coats.
For paper faced plaster board ceilings apply Oilprep Interior/Exterior pigmented sealer. Finish with two coats of Luxe acrylic ceiling flat.
For other surfaces like ply board, hardboard Masonite board apply Oilprep Interior/Exterior pigmented sealer. Apply two coats of Luxe or Endure semi-gloss for interior and Weatherblock or Endure gloss for exterior surfaces.
Tools you will need
Brush
Spray
Roller
Available Packs
1 Ltr
4 Ltr
10 Ltr
20 Ltr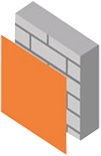 1 Coat
10-12 Sq M / Ltr / Coat**
Coverage
On well-prepared surfaces, as per the painting system recommended. Please refer to the Product Data Sheet for surface preparation and method of application.
** Actual coverage may vary from the quoted coverage due to factors such as method and condition of application, surface roughness, and porosity.
Get Inspiration

Make Your Plan

Let us design a project plan to suit your needs.

Colour Confident
Note:-
The shades displayed on this website are indicative only and may vary from the actual colours due to variance in monitor calibration and resolution as well as screen settings.