Envirotex 380 Exterior Sand Texture
Exterior texture that catches everyone's eye.
Envirotex 380 is acrylic water based coarse sand texture finish for exterior application. The product is also available in Vanuata.
Easy to apply
Uniform texture pattern
Uniform texture
Surface preparation:
The surface must be free of dust, mould, grease, oils, efflorescence, fungi, stains, rust and mastic compounds.
A minimum of 30 days is required for proper curing of alkaline substrates.
Cracks and flaws should be filled with quality fillers. Blowholes and pinholes to be spot primed and filled with texture coating.

Application Procedure:
Stir the contents thoroughly before use. On very hot days the product may be diluted with up to 5% Acrylic drying retarder for ease of application.
Apply one coat of Sureprep Acrylic Sealer Undercoat and allow 4 hours drying time.
Then apply one coat of Envirotex texture finish and allow it to dry for 24 hrs. Apply second coat of Envirotex finish or one coat of Apco Exterior low sheen finish of desired colour.
Tools you will need
Roller
Available Packs
4 Ltr
20 Ltr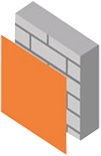 1 Coat
1-2 Sq M / Ltr / Coat**
Coverage
On well-prepared surfaces, as per the painting system recommended. Please refer to the Product Data Sheet for surface preparation and method of application.
** Actual coverage may vary from the quoted coverage due to factors such as method and condition of application, surface roughness, and porosity.
Get Inspiration

Make Your Plan

Let us design a project plan to suit your needs.

Colour Confident
Note:-
The shades displayed on this website are indicative only and may vary from the actual colours due to variance in monitor calibration and resolution as well as screen settings.