Deco Trade Alkyd Gloss Enamel
Professional quality alkyd enamel with smooth, glossy finish.
Deco Trade Alkyd Gloss Enamel is a professional quality high gloss alkyd based enamel with a smooth, tough film and good washablity.
Smooth finish
Washable
Multi substrate compatible
Surface preparation:
Remove all dust, dirt and grease from the surface.
If some mould or fungus is present on the surface, wash it with a commercial bleaching agent and then treat it with an antifungal solution.
Apply Deco Trade Alkyd Undercoat to prepare an even surface.

Application Procedure:
Stir the contents thoroughly before and during use.
Apply 2 coats of Deco Trade Alkyd Gloss Enamel with a gap of 16hrs between coats using brush, roller or spray.
Tools you will need
Brush
Spray
Roller
Available Packs
4 Ltr
10 Ltr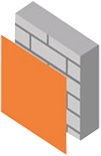 1 Coat
12-14 Sq M / Ltr / Coat**
Coverage
On well-prepared surfaces, as per the painting system recommended. Please refer to the Product Data Sheet for surface preparation and method of application.
** Actual coverage may vary from the quoted coverage due to factors such as method and condition of application, surface roughness, and porosity.
Washability
Best-in-class
High
Medium
Low
Available Shades
POINT PLEASANT HEIGHTS

7713

SPRINKLED WITH SUMMER

7923

MIDNIGHT IN THE TROPICS

8309

ANDREA'S ANTICIPATION

8714
Get Inspiration

Make Your Plan

Let us design a project plan to suit your needs.

Colour Confident
Note:-
The shades displayed on this website are indicative only and may vary from the actual colours due to variance in monitor calibration and resolution as well as screen settings.