Apco Wall Putty
Premium wall putty for both interiors and exteriors.
Apco Wall Putty is a white cement based product with redispersible polymer and functional additives for application on interior and exterior rough plasters to give it a smooth finish. The product is also available in Tonga, Solomon Islands and Vanuata.
Excellent adhesion
Smooth finish
Good workability
Surface preparation:
Plaster: New masonry surfaces must be cured for 28 days.
Cleaning: Ensure that surface is completely free from all dirt, loosely held plaster, powdery residue, oil, grease or any other contamination. Any previous growth of fungus, algae or moss needs to be removed thoroughly by vigorous wire brushing and cleaning with water. A single coat of SmartCare BioBlock is recommended to prevent further growth of algae, fungus or moss.
Filling for Cracks: For filling cracks upto 3mm use Asian Paints Smart Care Crack Seal.
Filling for Holes and Dents: In case of dents and holes use a mixture of white cement and fine sand in the ratio 1:3.
Pre Wetting: Pre wet the surface with water before application of 1st coat of filling putty.

Application Procedure:
Sand the surface with emery paper 180 and wipe clean, pre wet the surface before application of 1st coat of Apco Wall Putty.
Dilute putty approximate 40-50% with water to make paste. Apply two coats of Apco Wall Putty using knife or trowel at the interval of 6-8 hours and allow it to dry for 6-8 hours.
Apply a suitable water based primer before finishing with paint.
Tools you will need
Trowel
Putty Knife
Available Packs
1 kg
5 kg
20 kg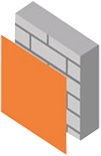 1 Coat
1-1.5 Sq M / Ltr / Coat**
Coverage
On well-prepared surfaces, as per the painting system recommended. Please refer to the Product Data Sheet for surface preparation and method of application.
** Actual coverage may vary from the quoted coverage due to factors such as method and condition of application, surface roughness, and porosity.
Get Inspiration

Make Your Plan

Let us design a project plan to suit your needs.

Colour Confident
Note:-
The shades displayed on this website are indicative only and may vary from the actual colours due to variance in monitor calibration and resolution as well as screen settings.